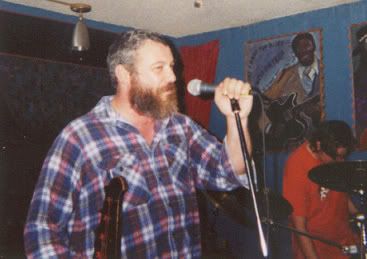 Hopefully, everyone has met
Mike Watt
. The guy, aside from being the greatest punk rock bass player of all time, is also a champ and will talk yer dang ear off if the subject is right. I'll give you a starting point, just say "John Coltrane" and things should take off from there. Several of my friends have some kind of Mike Watt encounter. He is easily the most approachable duders in the punk rock world. I was lucky enough to not only meet him but interview the guy as well.
Being the backwards kind of a guy I am, my first exposure to Mike Watt was not
Minutemen
, the band he's most famous for. Instead I started with the less popular, though equally awesome,
fIREHOSE
. Sometime in the 90s, at Jupiter, Florida's Music-X-Change (R.I.P.), I noticed an odd looking tape for sale. It was fIREHOSE's Totem Pole live EP. I forget how much it was, the used price couldn't have been more than $3. The 7 tracks were equal parts confusing and incredible to me. I had never heard anything quite like them before.
fIREHOSE is an adrenaline rush that hits me unlike almost any other band. And, I'm sure many folks will disagree with me, but for my money, it is Mike Watt's finest work in a trio. The Minutemen get all the lip service and are indeed a must-listen for anyone into punk rock. But what I keep returning to (especially on road trips) is fIREHOSE. What drew me to them was Mike Watt's phenomenal bass playing and gruff voice. Much to my dismay, there was this other guy who did most of the singing on their albums. It took me a while to warm to singer/guitarist Ed Crawford's voice but once I did, I felt like a jackass for not getting it right off the bat.
When I next caught up with Watt's music, he had gone solo (sort of). I'd heard of
Ball-Hog or Tugboat?
, his all-star jam album featuring everybody from Thurston Moore to Flea to Frank Black. While telling my friend about this album and how I had to find it, this smug little frown-queen was telling me that she had the album and would happily sell it to me. She had bought it because Henry Rollins had contributed but was disappointed that his involvement was only on a track or two. For $7 the CD was mine (which I would later get autographed by Watt at a gig) and overall, it is a fine piece of male rockness.
I bought Mike Watt's next album, Contemplating The Engine Room, the day it came out in 1997 and I was totally unprepared. To the confusion of my Jawbreaker-oriented friend, Rocky (whose CD player was the closest at hand that day), I nearly burst into tears of joy as this punk rock opera unfolded track by track. This really is a vastly important record. Get it and love it and thank me later. I'd heard of guitarist
Nels Cline
before but he tears shit up on this record as does Stephen Hodges' wicked drumming.
With a couple of friends, we drove off to Gainesville, Florida to see Mike Watt with opening band Atlanta's own
Five Eight
on November 6th, 1997. It was a fantastic show as the Watt trio (with Joe Baiza on guitars and Stephen Hodges on drums) played Contemplating The Engine Room in its entirety and then came back for an encore. Just before the doors opened, we were walking to a convenience store that we had spotted down the street when we saw Watt coming towards us. We introduced ourselves and he was just really nice. Like a moron, I asked him if he was going to play "Max and Wells" (my favorite song on Ball-Hog Or Tugboat). Requesting a song, what a lame-o! Trust me, I have never ever done that again.
The following year, my friend Kevin and I had a zine called Volunteer Library League and thanks to his shaky connections to the music world, we were able to get Watt's publicist's phone number. I called up greatly exaggerating our "subscription" which amounted to some shady photocopying totaling around 250 issues and next thing you know, I'm interviewing Mike Watt over the phone. It was great but I was so nervous, I must sounded like a friggin' teeny bopper on helium. We talked about John Coltrane, our evil government, the Engine Room record, and a bunch of other stuff. I'll be posting the PDF of the interview up here sometime soon.
A month after the interview, Watt was playing the opera one last time with Nels Cline on guitar and Bob Lee on drums in West Palm Beach (about 20 minutes from my parents' house). So me and my girlfriend at the time stood right up front on October 4th, 1998 to catch Watt in this little blues club. Nels Cline really stole the show doing wonderful things with his guitar that totally wrecked my world. We talked with Watt after the gig about John Coltrane and took some pictures with him.
End of part 1.
Some Videos…
fIREHOSE -
"Down With The Bass"
fIREHOSE -
"Witness"