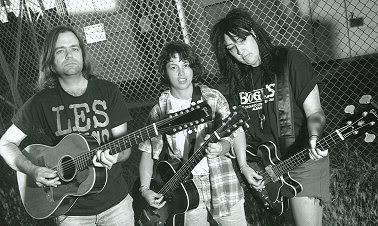 Shortly after high school, I begrudgingly started community college and began working as a sad sack security guard. Fastbacks are a prime example of the music that kept me from suiciding. One day while killing time at Sound Exchange (R.I.P.) in Jupiter, Florida, a promo copy of their 1994 album,
Answer The Phone Dummy
, caught my eye. I remember guarding this car dealership all day one Sunday and I'd brought this album along. Sometime around 6:30am, while I was eating stale Oreos from the gas station, I put Fastbacks on while watching the sunrise. Magic!
And here it is, 13 or so years later, and this band still gets to me. How I ever got by without this record is a mystery to me. I need everyone to dig on this album. It saved me and LeEtta's lives the other night while we were driving on the highway at night in the rain. The songs I picked are "Went For A Swim" and "And You". You need to know that dueling female pop punk vocalists are on a list of things to live for.
Songs:
Went For A Swim" and "And You"
Videos:
Fastbacks – "Waste Of Time"
and...
-Richard