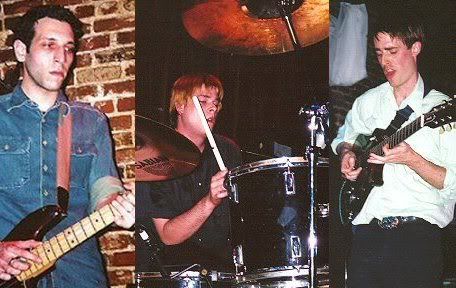 My heart runneth over with the Don Cab. I've spent several years trying to recover from my obsession with this band. Well, it ain't working. Here's
three tracks
from various live bootlegs to demonstrate why I couldn't give up the ghost.
When I think about it, there's nothing like plundering the deepest and darkest corners of your music collection. It is important to listen to live bootlegs of your favorite band, whoever they are. They might play your favorite song in a way that differs drastically from the album. Or, if they're like Don Caballero, you're just wondering if they ever pulled this shit off in a live environment.
Once I got over the flashy drums of Don Caballero, the guitars started to seep into my mind. They changed my whole sensibility on what I expect from a guitar player and how I listen to them. And of course, they influenced what kind of guitar pedals I bought (Akai Headrush, I miss you) and how I (try to) play. I think I just heard some hipster-eyes rolling. Anyway...
Their music is irrational therapy for me. There is something about Don Caballero that causes me to fold, unfold, and level off. I don't care what happens to me when I hear this stuff because I know that nothing will ever go wrong ever again. Sometimes, you just have to give in and realize that life really is this good.
I recommend all of their albums but my favorites are
American Don
and
What Burns Never Returns
(Mike Jolley told me I would hate this album (he was wrong (dead wrong!))). Nothing can stop this band, I tells ya. Not even a 75% lineup change. Thank God they're still good and still out there touring and recording. It helps me sleep at night.
Don Fanallero -
an excellent resource
Another video -
"Railroad Cancellation"
Hey look - it's yours truly (from 2001):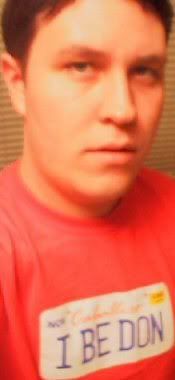 -Richard